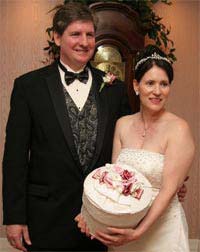 Every bride wants something special to make her wedding unique. Instead of a guest book, I wanted a fabric covered box that my guests would place their completed "Thoughts for the Bride and Groom" scalloped light pink and sage cards that I had made. Rose pens were made in shades of pink and placed in a glass vase for their use. My husband and I would later exchange little gifts, cards, etc. in the box throughout our marriage. A local event planner stated she would make a lovely box and sketched out the design in early March 2005. By early May, she still had not started but promised I would have it one week before my wedding, May 28th. I lost my trust and patience and asked for my money back. After searching the web, I found Pandora's Hat Boxes. They were more beautiful than what I originally was having made, but could I get one in time. My wedding was three weeks away, and I live in the U.S. I called and Giuseppina told me she had a box in stock and could add the silk roses in the colors of my wedding and ship it out in a few days. She and her husband were so helpful. They really care about what they do. I had the box several days before my wedding. The workmanship is absolutely beautiful. I've never seen anything like it and would definitely buy others as gifts. It was a true joy to work with them.
Barbara - Illinois, USA
---
Who would have thought when we first saw these unique boxes 10 years ago that we would not only be the proud owners of something very special and different but that we would also gain the friendship of a very special and unique person.

Most of our families and friends and relatives in the UK and Canada are now the proud owners of various Pandora's Boxes. Thank you.

Elizabeth and Hilda - Arnold, Nottingham, UK
---
Pandora's Boxes have created the most beautiful, ornamental memory box for me. The design of the memory box was extremely important to me for sentimental reasons. Giuseppina followed my specifications to the letter and also graciously took some artistic liberties which enhanced the box immensely. She asked for the décor of my home to be sure the colors were right; and used the highest quality fabric and created a needlepoint lid depicting the image I was trying to portray. The overall quality of the box is excellent.

Giuseppina is a pleasure to work with. Her prices are excellent as well. She is one of the best in customer service that I've encountered and gladly and highly recommend her.

I'd like to add that I live in the USA and all this was done via email. I didn't have to email photos of what I wanted. Giuseppina is so very artistic and creative that photos weren't necessary. She made a very important, sentimental ornamental box which is now a very special decorative part of my home, and did it with great ease.

Deborah - Alexandria, Virginia, USA

---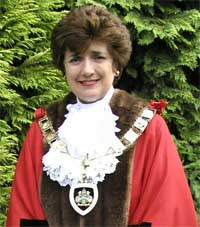 The boxes have arrived in the biggest box I have ever seen!!. I don't know how you packed them. The two boxes are superb. The hatbox with the Sanderson fabric is truly beautiful and you will never guess but it matches my curtains perfectly. I shall now enjoy putting one of my very best hats in it. I have loads, some hugely expensive as I was the Mayor of Runnymede in 2004 and the hats went with the job.
The Harry Potter style box is just fantastic and wonderful fun. I cannot get over the attention to detail, even the insides are as beautiful as the exterior of the boxes.
You were an amazing find on the internet. Such craftsmanship is rare to find these days. I shall be back with a Christmas order very shortly and shall tell all my lady ex-mayors about you, as they all have the same problem of finding storage which is practical but also beautiful and a joy to own.
Many thanks for all your help and incredible service.
Mary - Egham, Surrey, UK
---
Thank you so much for the beautiful box it was even better than I had expected. From the beginning of the order to the delivery of my box I was impressed with the professional and friendly service I was given. I will most certainly order from you again.

Carol - Emsworth, Hampshire, UK
---
The Savoy ballroom was dressed in chocolate brown and tones of pink. Each of the 40 tables had a fabulous centre piece, a chocolate brown velvet covered hat box, filled with a mass of gorgeous pink roses. Either side of the stage were two giant velvet covered hat boxes filled with an abundance of roses.

Pandora's Boxes made easy work of one of the many elements that went towards making this a spectacular wedding. Samples arrived within days after discussion, the boxes were beautifully made, and prices were incredibly reasonable.

It was a pleasure to work with Giuseppina, great customer service, can't believe how easy it was to do business over the phone and via emails!'

Katie - Wild At Heart, London, UK
---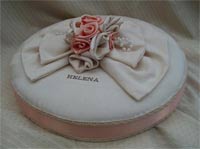 My beautiful hat box has fulfilled so many ideas and thoughts I've had for a while now. My mum died sadly when I was 8 years old and losing her so young has made me realise all the things I never got to know about her. The simplest of things like, what did she weigh when she was born, all her likes and dislikes etc etc, the list is endless.
I have grandchildren of my own now and it is so important to me that they know as much about me as possible. I wanted to design something very pretty and feminine in soft fabrics and pastel colours, that would always look special as the years go by. I couldn't believe my eyes when I came across Pandora's Boxes, it was everything and more I had dreamed of . I spent hours looking at all the different choices in the hatboxes along with lovely designs and colours. I had built up a picture in my mind of exactly what I'd like so I gave them a ring. I spoke to Giuseppina to see if she could help make my dream come true. She did that and more. I am now the proud owner of a beautiful hat box which is filled with some precious memories and photos of me and my grandchildren, even the occasional secret here and there and much more.
When I first spoke to Giuseppina it was like speaking to an old friend I hadn't seen for a while, her priority throughout has been to make sure I am happy. She is a very special lady who is passionate about her work, I can't wait for my grand daughter to be born this year 2007 so I can ask Giuseppina to work her magic once again.
Thank you once again.
Helena
- Misterton, North Nottinghamshire, UK
---
I'm writing to tell you how fortunate I feel to have found Pandora's Hat Boxes. Your products are not only Exquisite and Elegant and are the Perfect Compliment to any decor or gift but are even more spectacular in person than they are in the pictures. As you know, my company's name is Classic and Chic Gift Boutique and I create gift baskets unique to the individuals they are being made for ..... Just like the people, no two are ever alike. Although I've been unable to part with several of the boxes ordered from Pandoras, those that have housed these gifts have certainly done their share in enforcing our name, Classic & Chic. Thank you for such lovely products and for making it an absolute joy to order from Pandora's.

Deborah - Owner, Rochester, New York, USA
---
Thank YOU for allowing me an opportunity to claim ownership of some of your boxes and telling buyers how truly special they are. I do know that God is in the details and that everything you have sent me speaks to that truth.

Vyonne - New Orleans, Louisiana, USA
---
Thank you again for the many boxes you have supplied me with over the past 9 years for myself, family and friends and for the black and white boxes for "My Fair Lady" school play!

Not only is the quality excellent but the choice of colours is so appealing that they look too good to use!

You know what men are like, all things need to have a use so we now have somewhere to hide the TV remote control, unsightly items in the bathroom and most of all, the loose change in the dressing room.

I am in the process of helping my sister organise her wedding - I shall need a box she can use to store all her mementos in and also a box to store her wedding photograph album she can give to our mother as a present after the wedding. I'll phone you soon.

Angela - Healing, Near Grimsby, UK
---
The hat boxes that you designed are absolutely GORGEOUS! They don't have boxes like these in the USA, if you find any at all. When I saw the website, I couldn't believe my eyes. I received them in the USA within the specified time and with no hassles.

Everyone that has seen the boxes just LOVE them. They are so well made with fine details. Exactly like their online photos. THANKS SO MUCH, and look forward to doing more business with Pandora's Hat Boxes. Thanks Giuseppina!

Carmelina - New York Wedding Affairs, Glen Cove, New York, USA

---
I have ordered 5 of Pandora's boxes over the past year and have been extremely happy with all of them. They are beautifully made and look better than the pictures on the website. These beautiful boxes have given us a little bit of joy during a very sad time as we lost our 22 month old daughter and sister. Each of us in the family now has a precious box filled with the special things of Amber that are dear to us.

Sharon and family - Sammamish, Washington. USA

---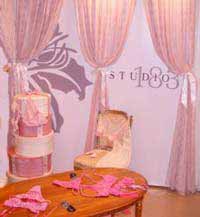 As part of a lingerie trade fair stand design that I was working on for my client I had agreed to source some beautiful old fashioned style hatboxes. Little did I know how difficult it would be, until I found Pandora's Boxes! They absolutely exceeded my expectations in every way. Even though I had given Giuseppina a ridiculously tight deadline, she produced for me 10 x covered jumbo hatboxes, they were utterly beautiful and made to a far higher quality than I had requested or expected. As we where working to such a tight deadline I trusted Giuseppina on colour and fabric choices, these were perfect and the boxes looked superb. The service I received was beyond the call of duty, and I so appreciated the extra efforts that were made in order to complete the job on time for me. The boxes received numerous compliments and are still displayed in my client's office. I would recommend Pandora's Boxes to anyone looking for high quality, sensitive design, excellent service and ultimately a beautiful product!
Libby - JLD Intl, London, UK.
---
Over ten years ago, I came across Pandora's Boxes, and their creator, Giuseppina, at a Country Craft Fair near Windsor Castle, liked what I saw and placed an order ... and have been doing so ever since.

I've had boxes for storing hats, hair accessories, scarves and pashminas, jewellery, Christmas and birthday cards. I've asked for difficult shapes and different sizes, with requests for trimmings to match my own materials, and have never been disappointed. The boxes arrive promptly, are very hard-wearing as well as beautiful, and Giuseppina makes me feel more like a friend than a customer.

It reminds me that it's time I had another! Like you, I've been very busy, but will be in touch. Seven grandchildren add, delightfully, to my timetable.
Jane - Ealing, London, UK
---
My daughter received a beautiful custom keepsake box from Pandora's Boxes. The attention to detail is incredible. Not only is the box unique, the quality of workmanship is beyond words... Thank you!

Spencer - Oceanside, California, USA

---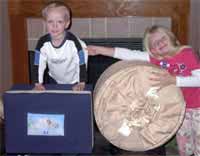 Pandora's Hat Boxes has been the answer to so many of those creative gift ideas I always have, but can never figure out how to bring to fruition. When my daughter Madison was born, I wanted to have a time capsule for family and friends to put something special in and to collect memories over the years. I gave just a few ideas to Giuseppina at Pandora's Boxes (the epitome of customer service!!) and she helped me design a beautiful feminine box, embroidered with my daughter's name and birth date. It is such a special piece of our family, beautiful to look at and a wonderful keepsake for my daughter to have after her 16th birthday.

When my son was born almost 3 years later, I had to let this new found tradition continue. Once again Giuseppina helped me design a wonderful box.....more masculine with a fabric of the most amazing blue and a darling angel on the top....it is also embroidered with AJ's name and birth date. Perhaps a great place for him to keep his love letters and things he doesn't want mom and dad to see, after he opens his on his 16th birthday.
My latest experience with Pandora's Boxes was a very personal one. My father passed away suddenly and left us all a little lost. When things settled down a bit, I wanted to give my mom something to keep the container holding my dad's ashes. She did not want a traditional urn. I gave Giuseppina the measurement of the container to store and she designed a lovely box for my mom with a photo of my dad on the top and his name, birth date and the date of his death on the inside. My mother loves it and displays it in her home with some other small mementos she holds dear.

Pandora's Boxes not only design beautiful things, but the personal touch they have makes it such a fun experience which never disappoints.

Stacy - Hilliard, Ohio, USA
---
Giuseppina made me a very special customised memorial box. I had visualised the box in my mind and when I found her website I knew straight away that she was the right person to help me.
We discussed my very specific details and she made my box to perfection. When my box arrived I was so happy it was exactly how I imagined it would be and better.
There was complete communication and she listened to my ideas. There was no delay and I could not fault her service or end product. I would recommend anyone wishing for that something extra special to contact her.

Nila - London, UK
---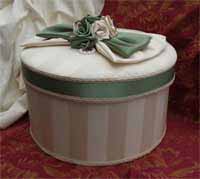 After several years and many weddings that I have attended I now have quite a collection of hats that needed a storage place of their own not just in the top of my wardrobe.
Last year while looking on the internet for suppliers of hat boxes I came across Pandora's Boxes, this was going to be the place where I purchased mine from. I did not want cardboard hat boxes I wanted something special. I knew at the time that I was going to be decorating my bedroom in the very early part of the year so I decided to wait until I had picked the colour scheme for the room, I could then co-ordinate the hat boxes accordingly.
I contacted Giuseppina who was just so helpful, I never once had any doubts of my hat boxes not being what I wanted. I was kept well informed of the progress of my order from start to finish which gives you confidence that you are being treated as an individual.
When they arrived I was just over the moon, they are beautiful and match the bedroom perfectly, the amount of hard work that has been put into them makes them all the more special.
I hope I can find a reason to order more boxes, I would like to have at least one in every bedroom to give it that special touch.
Thank you once again Giuseppina for all your hard work
Angela - Cheltenham, Gloucestershire, UK
---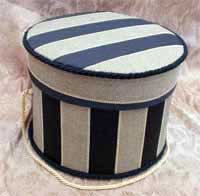 I decided to get a hatbox for my mother's birthday as there was a series of family weddings coming up. However, I needed it before the birthday as the first wedding was in two weeks.
Giuseppina said this was no problem and explained what she could do in the short period. The hatbox I purchased was excellent, suiting my mother's tastes very well. She even added a cord carrying strap as I explained it was to allow my mother to travel with her hat(s).
Excellent service and excellent hand-finished product.
Giles - Worcester, UK

---
Dear Giuseppina, the three boxes are wonderful marvellous I'm sooo happy!
My mother liked them so much!!! You are such an artist thank you!
Next time I'll order at least one of your beautiful boxes just for me!
Nicoletta - Sardinia, Italy

---
I just want to let you know that the Memory Box arrived safely. Thank You. It is an object of great beauty and a worthy guardian for my late husband's possessions etc.
As I think I mentioned, I am involved with a bereavement charity, and when my next monthly News Sheet goes out to the team, I shall make mention of your lovely products and empathic communications.
Words really cannot do justice to your workmanship and I am delighted to have found your website.
With appreciation and the very warmest of wishes.
C. Skinner - West Sussex, UK

---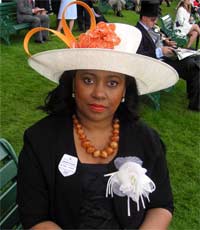 I am overjoyed at the quality and designs of my hatboxes ordered from Giuseppina from Pandoras Boxes. Giuseppina could not do enough to accommodate my special order requests, after my husband and I attended Ascot this year, and needed several hatboxes.
The fabrics are devine, the workmanship exquisite and the service is outstanding. I simply can not find enough superlatives to express my joy upon receiving the finished products.
Thank you very much.
Sherry
South Croydon, Surrey, UK
(The photograph was taken at Royal Ascot)
---
Libby's box is safely here- beautifully and securely packaged, no problems. The courier even carried it into the house for my husband who is disabled. So, as in every stage of this transaction, every detail has been accomplished with care, thoughtfulness and a professionalism which is a joy to experience.
Thank you so much for all your kindness and interest.

As for the box itself -- I am SO pleased and delighted. It is EVERYTHING that I had hoped for ( and more!) Elegant, stylish, useful and most beautifully made. Just like my lovely Libby!! A large part of the pleasure is knowing beyond all doubt that she will absolutely adore it.

Here's to the next time!

With so many thanks and all best wishes,

Rona - Edinburgh, UK
(The box referred to is PB567 - Rose & Hubble "Wenceslas" Green and Gold Striped fabric)
Dear Giuseppina,

The oh so beautiful box arrived safely this morning and I am very,very delighted with it. Again, all has been accomplished with great efficiency and professionalism - all of which adds to the pleasure of ordering from you and the certainty of being thrilled with the results.

I feel that nothing could be prettier but then I remember all the other gems on your web-site and the difficulty I had in choosing just one. Suffice to say that I am more than happy with my choice and that I am sure that my friend will also marvel at your skill and artistry - and just love it!

All best wishes,

Rona - Edinburgh, UK
(The box referred to is PB529 - Laura Ashley "Roses" fabric)

---
Dear Giuseppina
The box arrived safely yesterday and is absolutely wonderful, a sheer delight. I love everything about it - the pattern, the trimmings and the intricate decoration on the top. I am pleased it is so sturdy as I plan to use it as a memory box, eventually to be passed on to my daughter, and hopefully it will become a family heirloom.
I am very pleased I found your website as I can foresee other opportunities where one of your designs would be just the thing. It is definitely a case of storage made beautiful as well as functional!
Thank you once again for such a wonderful product, and for your personal attention in making sure everything was just as I wanted.
Kind regards
Meriel - Weston-Super-Mare, UK
(The box referred to is PB573 - Rectangular Chocolate Brown Damask Box)
---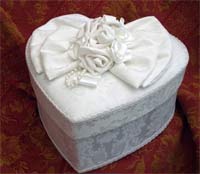 I have been planning our wedding for a year now, and of late, I have had many many deliveries to my house for various things. We even know the courier! All have been exciting to receive, however, none took may breath away like the heart shaped box I recently received from Giuseppina.
Giuseppina has been a wonderful person to work with, her service & professionalism have been amazing. Her work is absolutely stunning!! And made with such love & care.I have had such a pleasant experience through the whole process!
Giuseppina, you are very talented at what you do!! I appreciate your time, patience, advice, service and your quality of work it simply amazing!!
Boby & I are so excited for our wedding!! And I cannot wait for my gorgeous bridal shoes to go on show in such an elegant and unique way!! I definitely won't forget to send you photos!!
Thankyou for your beautiful card & kind wishes for our wedding!
Wishing you the very best
Boby & Megan xxx
New South Wales, Australia
---
Hi Giuseppina,

the box arrived safe and sound yesterday and my oh my what a box !!! it is truly magnificent even better than I imagined, the pictures do not do the product justice, I can't begin to tell you how thrilled i am, thank you very very much.

I will certainly be returning to order another and will wholeheartedly recommend you to all my friends, I'm just off out now for a birthday dinner armed with the box, I can't wait to give it to her.

my best regards and thanks once again

Elizabeth - Bristol, Gloucestershire, UK
(The box referred to is PB529 - Laura Ashley "Roses " Hat Box)
---
[Top of Page- Customer Feedback]